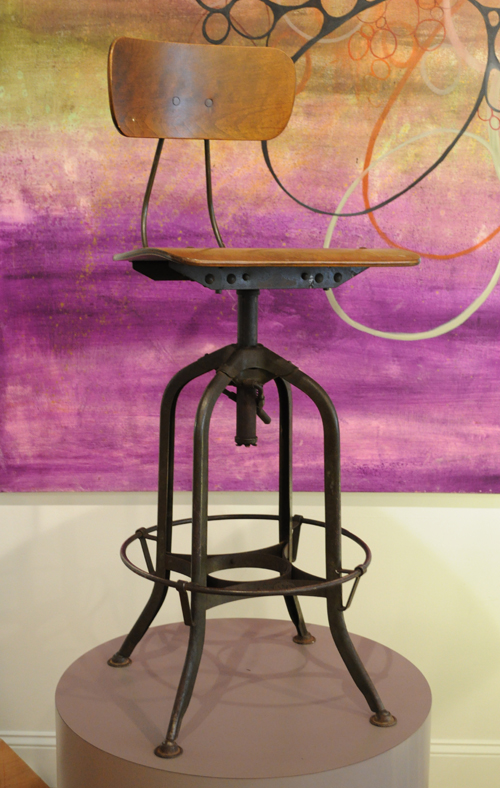 Continuing down the path of acquiring classic, industrial furnishings I located this week an exceptional example of Toledo Metal Furniture Company's iconic drafting chair. This beauty came to The Purple Moon via a friend of a friend and is a great addition to the industrial collection now available in our gallery.
The Toledo Metal Furniture, Co. began as a bicycle maker in 1897 and was founded by the brothers Joe and Clement Uhl in Toledo Ohio. After the dawning of the automobile, with bicycle demand dropping, the Uhl's began producing furnishings for commercial and industrial use in about 1910. The company later became a division of Banner Metal, Inc. in Stroudsburg, Pennsylvania. The Uhl brothers designed many of the furniture pieces now associated with the "machine age" and which are now highly desirable by those seeking the industrial chic look for their homes and offices.
This drafting stool, with fully adjustable seat and back height and a pivoting base, is made of heavy steel and wood and was designed to withstand weight and frequent use. As functional as it is expertly designed this stool is a classic of 20th Century design.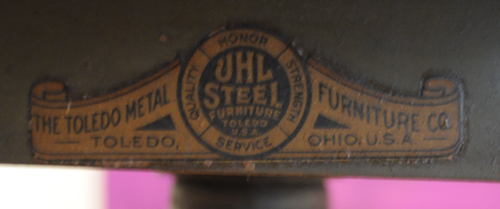 This Toledo Metal stool, along with other designs by the Uhl Brothers, is currently available to be seen, enjoyed and purchased in The Purple Moon's showroom gallery.