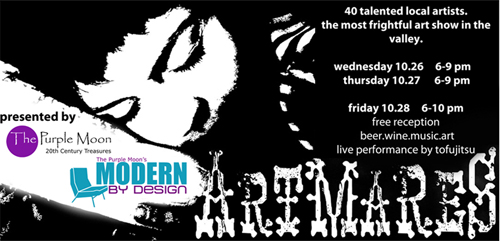 Opening tonight and culminating with a reception on Friday evening as part of East End Main Street's Annual Halloweast activities is the spookiest art show to come to Charleston each year – ArtMares.
Featuring artwork from nearly 40 artists, this years event is proudly sponsored by The Purple Moon and Modern by Design. The show is being held at the Kanawha Players Theater at 301 Beauregard Street on Charleston's East End. Hours of the show are:
Wednesday – October 26 – 6pm to 9pm
Thursday – October 27 – 6pm to 9pm
Friday – October 28 – 6pm to 10pm
Friday evening will be a free reception with beer, wine and live music by Tofujitsu.
Participating artists include:
Amy Williams . Bernice Deakins . Bill Price . Charly Jupiter Hamilton . Chase Henderson . Chuck Hamsher . Clay Sayre . Dale Morton . Dave Thomas . Eric Holstine . Gary Stewart . Ginger Workman . Glen Brogan . Hannah Stone . Hannah Toney . Ian Bode . Jenifer Sheets . Joe Bolyard . Keith Allen . Kelly Bryant . Kristen Costello . Laura Wilmoth . LeAna Paxson . Mark Wolfe . Matthew Thompson . Naomi Bays . Nik Botkin . Rebecca Burch . Rob Cleland . Rob Hrezo . Rudy Panucci . Sandra King . Sarina Reed . Sharon Stackpole . Shayne Workman . Staci Leech-Cornell . Tara Bradley . Vasilia Scouras
50% of all art sales go directly back into East End Main Street public art and development initiatives.
Come out and enjoy some of the scariest art you will see from some of the Kanawha Valley's top artists!